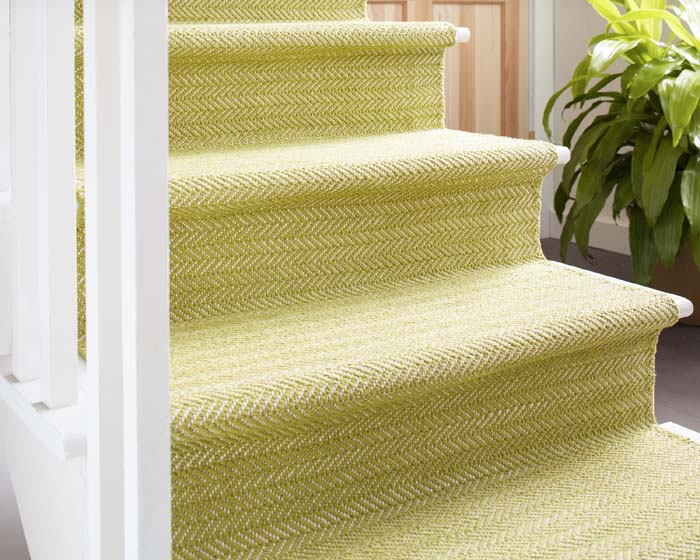 The kitchen might be the heart of the home but it's the hall that creates the first impression! If your entrance looks a little tired but you need to do your DIY on a budget, a stair runner can create the right welcome without the cost of carpeting the entire hall and landing. So here's how to fit one!
What you need:
Air staple gun
Utility knife
Metre stick
Tape measure
Pencil
Stair rods
Stair pads
What you need to know:
The horizontal section of each stair – where you step – is called the TREAD.
The vertical section of each stair is called the RISER.
How to measure up:
To measure the length of the runner:
Multiply the number of treads by the depth of one tread
Multiply the number of risers by the depth of one riser
Add the two measurements together
Add three inches per stair
Add surplus to account for error
To measure the width, simply measure the width of one tread and subtract the amount of wood you would like on show either side (about four inches of stair either side is standard but it could be more on a wide staircase!).
Note that these instructions apply to straight stairs. Kite or winder (corner) stairs are a much trickier task and our advice would be to call in a professional carpet fitter.
Sweep the stairs clean and remove any old nails or tacks.
Lay a stair pad on each tread.
Draw a straight line half an inch from the end of the runner and, using your metre stick and knife, cut the carpet to ensure a clean, straight edge.
Measure the width of your stair tread with your tape measure and halve to find the centre point. Mark the centre of each tread with a pencil. Then measure the width of the stair runner and divide in half also, to find its centre.
Place the runner on the top stair, leaving enough to cover the uppermost riser as well as the tread. Smooth out any air pockets and creases and, with the staple gun, tack the runner to the top of the riser, stapling every few inches along.
Allow the runner to drop to the bottom of the staircase in line with each riser and tread. Loosely attach the stair rods by drilling holes in the stairs for the rod screws and loosely screwing in place.
Staple the runner in place along the upper of each riser, just under the nose of the tread above. Remove the loosely screwed rod of that stair and tack the carpet again at the point where the riser meets the tread. Put the rod back in place, screwing it tightly into position.
8. At the bottom, trim any excess carpet and attach the runner along the bottom of the lowest riser.